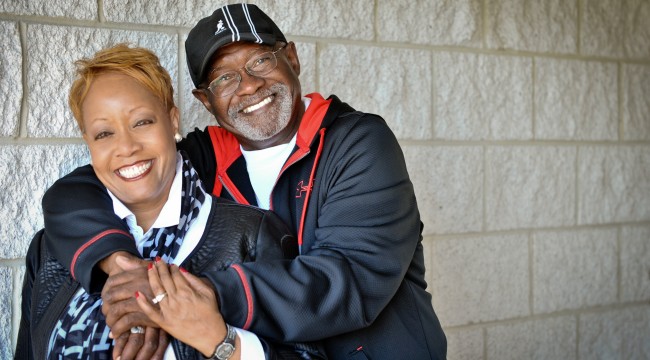 Sometimes loves hits you unexpectedly. Sometimes it creeps up on you and makes you do things that, to others, seem out of the ordinary when in fact the only thing that is out of the ordinary is  how it all came to be. When I asked Sandra how this happened so quickly as the nuptials were supposed to take place much later this year, she smiled broadly and began to explain. She slowly detailed the steps that brought her to this place with John. I could see in her eyes how excited she was to tell the story. As I listened, I could clearly visualize the story playing out, the characters Sandra and John, and the beautiful romance that thereafter ensued. She left out no details and when she was finished, I clearly understood the human how and why. She calls herself a seasoned bride, I call her beautiful. Ultimately, all I can think of is how God has his hand in everything that we do, don't do, hold dear to our hearts, dream of. Bringing Sandra to John or the other way around might have been unexpected for them but I'm convinced he knew they would be perfect for each other at this place and at this time. I promise you I'm not trying to preach or testify…I'm just saying!
When I met John for the first time I more clearly understood the smile in Sandra's eyes. His smile makes you smile, his wit makes you laugh and his love for Sandra and how it's displayed is heart warming. I'm thrilled for the two of them and honored to be able to document their wedding just a short week away! Who said a wedding could not be planned in 30 days? What?
We planned, in short order, an engagement shoot at a location that is close to John heart and where he spends a lot of his time coaching track.
Check out their slideshow!