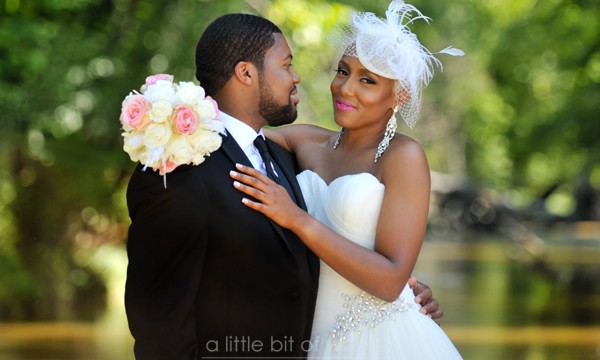 When you know it, you know it… When you see it, you see it… when you feel it, you feel it.  The hopeless romantic in me knows, sees and feels love when it is in the air.  When I first met Kimberly and Brian to preview my work they both were very excited about the possibilities.  Having a first look appealed to them as they knew portraits of them as a couple were of the utmost importance.  As going down to the monuments began to seem daunting, the search for somewhere to create said portrait was then in my hands.  I went to the church and scouted the location but was not "hit" with a location that was, in my critical eye, "good enough".  I searched some more and did not stop until I found it (you know I did)…. a creek, a pathway, woods, beautiful light and solitude.  Close to the church, quiet, just perfect….
Brian asked later, "How did you find this place, I've never seen it before?"  I looked, hesitated and said…. "I was just lead here…. can I say God?"   It was just that beautiful and the resulting pictures that will be their portrait will be just as meaningful and beautiful for a lifetime.  Like I always say…"A moment in time, to be treasured forever"…
Brian and Kimberly a huge Thank You goes out to you for allowing me to be a part of your day.  I was honored to be there and felt a part of your awesome group of friends and family.  I can not say enough about the love and support I know you'll have to carry you through the years to come.
To see more of their day as it unfolded, feel free to check out their slideshow!
Gorgeous…in plain clothes….
make up by: FaceCouture,   Hair by: Brittney Andrews, DemiMode Hair Salon
Justin Alexander dress…
 Bridal Head Pieces: purchased online
 ready for the "First Look"
 always love a "first look"
Let's do this…
one of my favorites……..
Gorgeous…….
ready for GQ…
 Lovely Couple's "First Dance"!
Kimberly dancing a special dance with her dad…
and Brian with his beautiful mother!
That song "Mama"….. always catches people off guard…!
my heart is smiling… so cute!
and they danced the night away
To see more of their day as it unfolded, feel free to check out their slideshow!
Wedding coordinator: Angie McLaurin of WE Extraordinaire/To His Glory LLC
Venue: Knights Of Columbus
Catering Services: by Lavel Sanks Catering
DJ: "A.J. Throwback"
Make Up: LaToya Tisby-Still of FaceCouture
Hair: Brittney Andrews for DemiMode Hair Salon
Bridal Gown: Justin Alexander purchased at Ellie's Bridal
Bride's Second Gown: Purchased at Katherine's Bridal
Bridal Shoes and accessories: "Glint"   Nordstrom
Bridal Head Pieces: online light in the box
Bridesmaids Gowns:  Ellie's Bridal
Mother of the Bride and Flower Girl Dress:House of Jon Lei
Cupcakes and Cutting Cake:  Hello Cupcake
Bartender: Joanne George
Programs: Designed by Brian Freeman Jr. of Creative Genius Concepts
Printing: Blue Boy Imaging
Invitations: Design and Printing by MiDesign