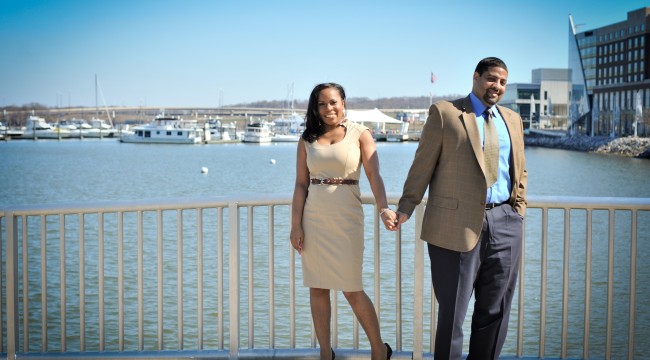 I have no idea what is going on with the weather around the DMV area but it is clear Spring has not yet sprung even though it is late April.  Chilled to the bone Katrina was more than a trooper as Wayne kept assuring me…"She's cold… I know she's cold.. She is always cold".  Sometimes we (women) do that…take one for the team, so strong we are.   We stop at nothing to get the job done; and with a big smile no less. The pictures were the foremost important thing on Katrina's mind and she was not going to let a little frigid weather knock her off her game.   She had been planning this for more than a minute so the slight breezy, crisp, cold conditions were nothing to her.  Did I say cold?  It was  cold…  He even said she was shivering so we went from coat to no coat to coat and she was smiling and laughing all the way.  The dress was sharp and that's what she had planned to wear but the coat was just as killer.   No one would have ever guessed it was not supposed to make an appearance. It worked and she worked…. the camera…. with her man by her side!
She has Wayne… to back her up, make her feel adored and loved.  It's a testament that I witness ever so frequently, no doubt, but somehow this seemed a bit different.  The moment she looked into his eyes she smiled earnestly, eagerly, honestly, humbly.  I tried to get the serious, sexy/seductive look from her eyes to no avail because she was with Wayne… and when she is in his arms, she is all aglow, smiles, giggles, and effected by his mere presence.  And he knows it which makes him equally as effected. The perfect couple.
Thanks Katrina and Wayne, we had too much fun during your engagement shoot.  You guys are an awesome couple and we look forward to capturing your big day this July at The Gaylord Hotel- National Harbor, Maryland.
Katrina laughing as Wayne and a passing audience cheered her on…
Straight out of GQ…
Whenever he whispered in her ear her face lit up!
Awesome you two…  what a beautiful smile!
Ok.. I lied… here Katrina pulled out her seductive eyes….
Gorgeous Katrina…
Love is… forgetting there is someone nearby taking your picture!