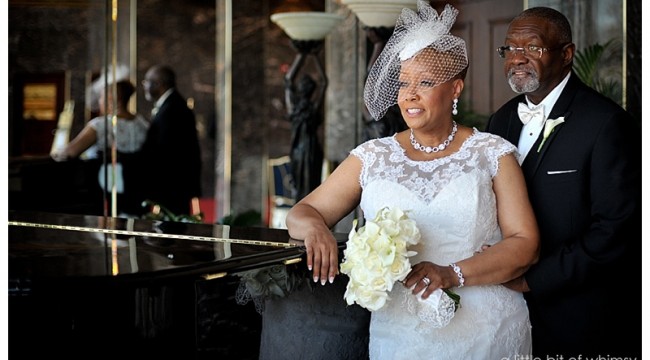 It was a gorgeous day in Maryland, clear from the start.  I arrived at the hotel where Sandra quietly prepared for her big day with one of her best friends looking on.  She was calm and collected as I had experienced now twice before.  I wondered if she ever was anything other than nice, kind, considerate with a side of fun.  Every now and then she would strike a pose or make a comment that let me know she is a lady in every sense of the word with a little bit of underlying spice that not all get to witness.  I clearly know why John smiles as wide as he does when he is around her… for the lady, it's unmistakable and for the spice, it's for sure.   From the full lace dress, stunning birdcage, teardrop ear rings, lace borrowed handkerchief, understated but elegant necklace and bracelet down to the pointed toed J.Renee' pumps  and later the glittered Keds…. Head to toe Sandra excluded elegance.  John did not disappoint either as he looked like a million bucks with his black tux and his bling.
The day was the epitome of elegance, grace, class and sophistication.  Covenant Weddings was there to make sure that every detail was intended to with a level of care and attention that all brides deserve.  I just love working with Diane and her team – Always!  The Camelot ballroom was breathtaking with the tall, pillared, soft white arrangements with teardrop adornments and the black, white and gold theme that carried throughout the room. At every turn, my breath was taken away.  The reception did not disappoint –  Everyone danced, engaged in lighthearted fellowship and enjoyed a great time… Even the tackle on the ballroom dance floor for the "bouquet toss" was entertainment for the vast majority…after we (yes, me included) picked our mouths up off the floor and realized that the adorable little lady with the pink jacket was up and walking, talking and laughing as though these things happen to her all the time.  I thought of her for days afterward and prayed that nothing was broken and she suffered no bruises as a result.
I could go on and on but the pictures really tell the story and the slideshow (also found below the post) brings the day and this enchanted event all together. John and Sandra, I can not say enough beautiful things about the two of you.  You are officially one of my "couples" and I wish you all the love and happiness that the Lord will allow the two of you.  May He keep his loving hands around you and keep you close as you continue to keep Him in your hearts and marriage alike.  If I know you at all, I know  you will!  Love you guys…
Equally beautiful and handsome! or Handsome and beautiful…depending on which way you look at it!!
Covenant Weddings never disappoints!  How elegant!

It's always nice to have someone right at your side to call a friend.
Gorgeous!
The portrait above is one of my favorites from the day!
Having a bit of fun!
No, she was not a run-a-way-bride… Just a very smart, comfortable one!
To see more of their day as it unfolded click the slideshow below!