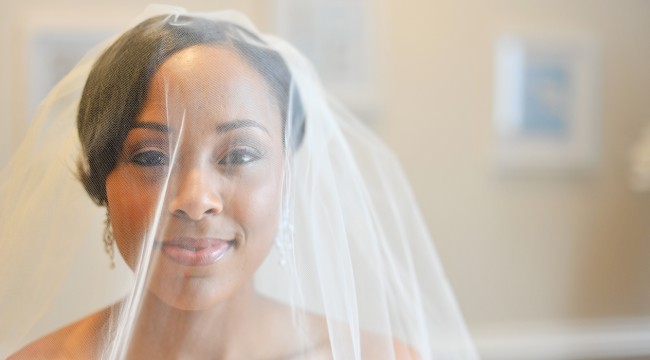 After the cold snap faded and the buds of Spring began to bloom so did this union between Taren and Sidney.  Both were super excited about the day and were ready to get the show on the road. They were ready to be married and the day progressed as smooth as aged red wine because the detailed planning and hard work had already been accomplished.  Sidney was all ready to go when we arrived at his suite, dressed to the nines and then some.  They guys made their way in and all were dressed in a matter of minutes.  He was relaxed and very happy.  Likewise, Taren was as calm as they come when I arrived… hair – done, makeup – being carefully applied, she looked radiant and could not stop smiling.  You could tell she was happy and all the beautiful ladies, her friends, surrounded her with the same easy calm that she displayed.  Matching kimonas were donned and they took some time to pose with and toast to Taren before going off to the holding room.  Nothing hurried, nothing bothersome – nothing was going to get in the way of this spectacular event going off just as planned.
Sidney and Taren,  Your wedding was just beautiful and I had a ball amongst your family and friends.  I wish you all the happiness in the world and I look forward to that call to come capture the next generation to come, whenever that is (no rush, just a thought).  You guys are funny, smart, playful, energetic, sensitive, kind, considerate and best of all, In Love with your family and friends and best of all – Each Other!  May you always find comfort in each others arms!
Ceremony on the Lower Atrium of the Gaylord Hotel at National Harbor 
Reception in the Eastern Shore Room
A mother daughter moment!
Georgous! Really….. The perfect dress from House of JonLei Atelier
Taren, You look stunning!
Generation Photo
Sidney, you are mighty handsome!
Sidney and the guys take in the spectacular view from the National Gaylord Hotel
A very proud father!
Now that's a pretty..my bad, handsome smile!
Taren… having some fun behind Sidney's back!  Fierce!
Awesome reception by none other than Covenant Weddings
To see more of Sidney and Taren's Wedding Please click on the slideshow below!