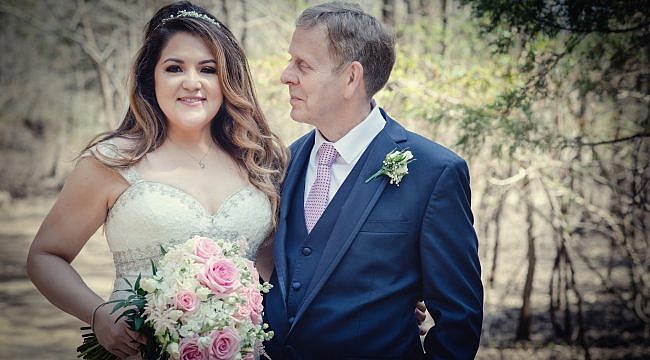 Not a cloud in the sky. What a beautiful day to get married. Michael, Matthew (his son) and sisters arrived and introduced themselves to me. He moved deliberately among his sisters who helped him and Matthew with their boutonnieres. Slowly the guests began to trickle in and one by one greeted Michael with a smile, handshake, and hug. They were all family and there to support the union of Michael and Marlyn. I stood back, captured the scene and waited for the bride. One of her best friends was there waiting for her to arrive. She looked nervous and called several times to find out her ETA. And just like that, a car rolled up in the driveway and out popped the Bride. Marlyn was like a ray of sunshine. She gave me a big hug, hurried to gather her things, gave them to her friend and disappeared, just a quickly as she arrived, into a room to get dressed. Minutes later she was walking down the aisle on the arm of Matthew. As they moved into full view I could see Marlyn was extremely happy. I turned to capture Michael and his smile was broad. I was elated for the couple as I knew, at that moment, they were happy and were ready for this journey. Married… Marlyn and Michael trusted me to capture their intimate wedding and all of their family and friends. It was elegant and beautiful.
We walked the grounds of Clyde's Willow Creek Farm to find an appropriate spot for photos. I was happy to find the bridge and the landscape that make the photos so picturesque.
Michael and Marlyn, thank you so much for trusting me to capture your beautiful day. I was honored to be among the few to witness your union and thereafter capture the details that made your union and celebration so special.